Aeotec has partnered with SmartThings to add a "Works As a SmartThings Hub" device to their portfolio. This Aeotec Smart Home Hub leverages the same hardware used in the SmartThings Hub v3, optimized to work seamlessly with all new features of the current SmartThings app and ecosystem.

The Aeotec Smart Home Hub is compatible with over 5,000 other smart products, including Z-Wave, Zigbee, and WiFi devices. Some of the most recognizable compatible brands include Google, Amazon, Sonos, Samsung, Ring, Nest. You can even connect with audio systems from Sonos, cameras from Nest, Aeotec, and Arlo, and Ring Video doorbell.
Aeotec Smart Home Hub is the central controller and the intelligent brain of your home's automation system. It allows you to wirelessly connect a wide range of compatible smart devices from Aeotec and other makers to build smart lighting, safety, entertainment, and security for your home and manage all of its connected electronics. Using the SmartThings app for iOS and Android, you'll be able to create automated routines that meet your family's routines from morning to night. Lights will brighten as you wake, and your home's electronics will power off when you sleep.
Turn Your House Into A Smart Home
Of course, the Aeotec hub is the perfect device to turn your house into a smart home. The Aeotec smart home hub works to seamlessly connect your devices together wirelessly. This way, they can effectively operate together. In addition, you can use the smart home hub by Aeotec to monitor and control all the connected devices throughout your house. Whenever there is unexpected activity, your smart home control hub will send you instant alerts. Of course, this is important to help you monitor your smart home activity remotely. With your SmartThings smart home hub gateway, you can rapidly know when doors are opened, visitors arrive, or when noise disturbances occur. Surely, the smart home monitoring hub by SmartThings is an excellent solution to improve your house's security and technology.

Description

WORKS WITH: Compatible with Z-Wave, Zigbee, and Wi-Fi, this v3 of the SmartThings hub platform can control other systems such as; Door locks from August, Kwikset, Schlage, and Yale; Cameras and doorbells from Aeotec, Arlo, Nest, and Ring; Connected audio and speaker systems from Bose, Samsung, and Sonos; Connected lighting from Aeotec, Cree, Leviton, LIFX, Philips Hue, Sylvania, and others; Smart thermostats from Ecobee, Honeywell, Nest, and others. For the full compatible devices list visit: Works With SmartThings devices, including your favorite Z-Wave and Zigbee products

Benefits and Features:

Easiest way to make your home a smart home: Wirelessly connect and control a huge range of smart devices - over 5,000 are available from dozens of brands - including voice assistants, lights & switches, speakers, cameras, sensors and more
Automate connected devices: Any device you connect can be included into automations which can be intelligently managed
Control via app and voice: Monitor and control connected devices, and run automations, using the SmartThings app on Android, iOS, and iPadOS, or voice user interfaces Amazon Alexa and Google Assistant
Requires an internet-connected Wi-Fi router (available Ethernet port recommended), plus a smart phone or table running the SmartThings app
Compatibility: certified to work with Google, Alexa, SmartThings, Wi-Fi, Z-Wave Plus, and ZigBee protocols. Not compatible outside of the USA.
Specifications

Power Supply: 5V, 2A power adapter
Regions: US Version
Z-Wave Frequency: 908.42 MHz (US)
Certifications: Zigbee, Z-Wave, WWA, WWGA, FCC/IC/CE
In the box: Aeotec Smart Home Hub, 5V USB power adapter, Power cable, LAN cable, manual
Comparisons: SmartThings vs Z-Wave sticks and software
Shipping & Returns

Free US continental shipping for orders over $150; $5 for orders $99 or less. In most cases, any order received prior to 12:00 EST ships the same business day. Orders placed on a weekend or holiday will ship on the next business day. Shipping charges calculated at checkout.

No drop shipping - all stock warehoused in the USA so you won't be charged any import duties for shipments within the USA.
Share
View full details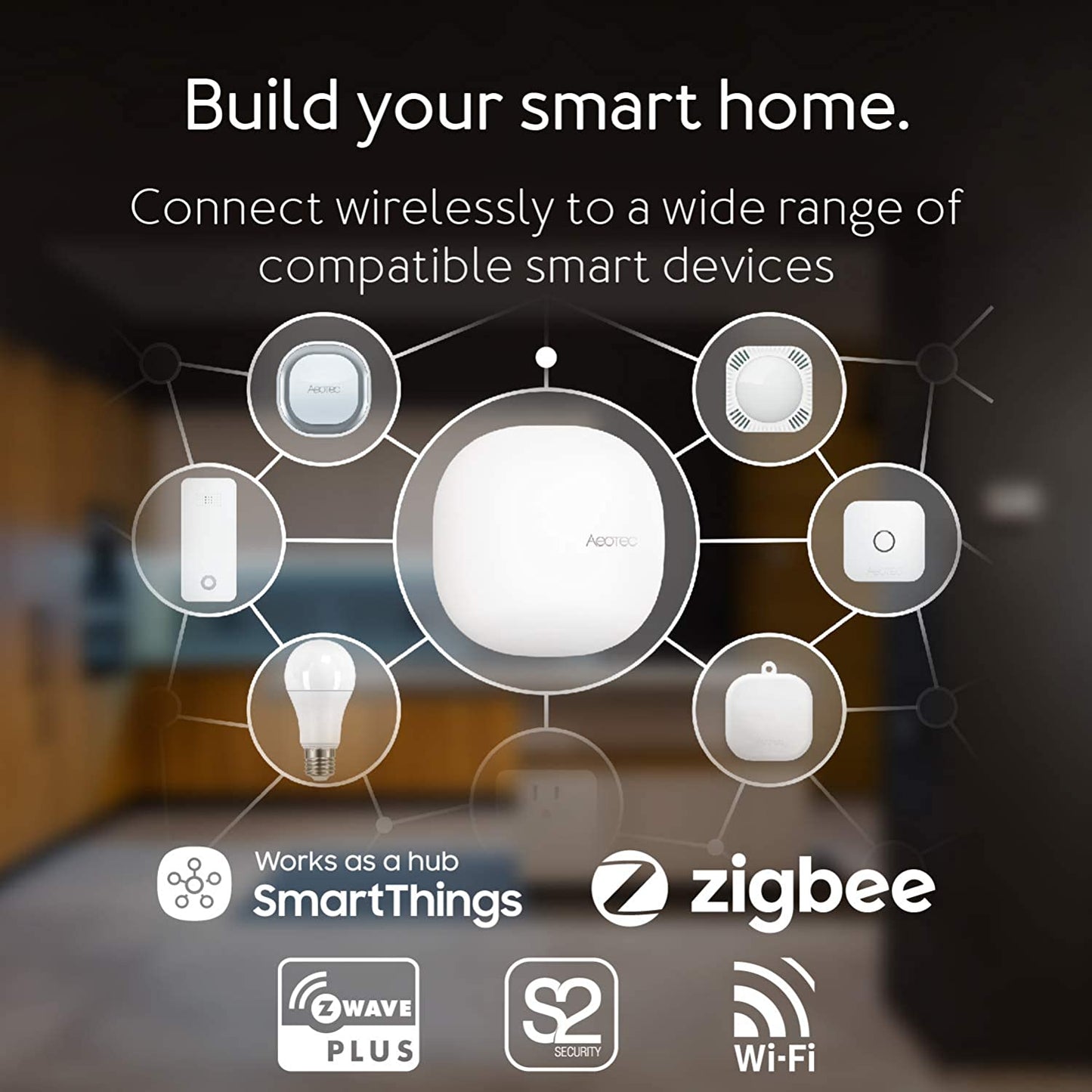 Shopping with ZWaveProducts
Free, Fast Shipping

Free shipping in the USA for orders over $150. Or $5 for orders $99 and under.

1 Year Warranty

All new items, including open box, covered by 1 year warranty.

Hassle-Free Returns

Returns within policy accepted up to 30 days after purchase.
Customers also researched
Frequently asked questions
Is SmartThings being discontinued or going away?

No, but there are some changes. Select SmartThings hardware, including Hub v3, will be rebranded from Samsung to Aeotec - you can see the

full SmartThings product range here

. The SmartThings platform, including the app, will continue to be developed by the team at Samsung's SmartThings and branded SmartThings.
Does the SmartThings hub or app require a subscription? Is it free?

No, SmartThings doesn't charge users a monthly fee for their software, app or to use the Aeotec Smart Home Hub.

However, SmartThings' Smart Home Hub can connect to a huge range of compatible devices and it is possible that you purchase a 3rd party device or service that requires a monthly subscription fee to use. For example, home security and SmartThings services can be purchased which may incur a monitoring charge.

Please check with the manufacturer of any accessory or product that you connect to SmartThings to understand if 3rd party products will charge you a monthly fee for their use.
What is Smart Home Hub's wireless range?

Wireless performance depends more on the products you connect to SmartThings than the hub itself. The hub can control Z-Wave devices that are up to 30m / 98ft away or Zigbee devices at 39 m / 130 ft away. Ultimately, it will depend on the construction of the home the hub resides in.
What can I connect to a SmartThings hub?

SmartThings and Aeotec Smart Home Hub are compatible with over 5,000 different devices from hundreds of different brands. That includes brands such as Aeotec, Bosch, Bose, GE, Google, Honeywell, IKEA, Lutron, Philips Hue, Ring, Samsung, Sonos, and Yale.

A list of

devices compatible with SmartThings

software is available and tracks nearly 1,000 products from over 100 different brands.
Which version of Z-Wave does Aeotec Smart Home Hub use?

Built atop of Z-Wave Plus, Aeotec Smart Home Hub utilizes Z-Wave 500 series. It's compatible with

700 series

products, but doesn't have the advantages of either 700 or 800 series itself. Learn more at this list of the

hub's specifications

.
Which versions of Z-Wave is SmartThings compatible with?

SmartThings and Aeotec Smart Home Hub are compatible with all generations of Z-Wave, including the two versions Z-Wave Plus V2,

700 series

and

800 series

.
Does Aeotec Smart Home Hub support Wi-Fi devices?

Yes, including the Aeotec

indoor camera for SmartThings

. Other wi-fi devices work as well but indirectly. Smart Home Hub offers Wi-Fi 802.11 a/b/g/n/ac, amongst other wireless technologies. However, in most cases Wi-Fi is used for Internet connectivity and not to connect directly to smart Wi-Fi devices. Instead, the SmartThings app will commonly route connections to compatible Wi-Fi devices through the device maker's cloud connexion.
Will ADT sensors work with SmartThings & Smart Home Hub?

Only the ADT Water Leak Detector will. All other ADT sensors will not work; they use proprietary, wireless technology and not an open-standard that Smart Home Hub is compatible with. Smart Home Hub offers Wi-Fi, Zigbee, and Z-Wave compatibility and the ADT Water Sensor is compatible as it utilizes Zigbee.
Do they still make the SmartThings hub?

Samsung don't, but Aeotec do. Since December 2020, the Samsung SmartThings Hub v3 has become the Aeotec Smart Home Hub. It still runs the SmartThings software and SmartThings app. It is still compatible with all the devices and automations you've come to expect. The only change is that the hardware is now branded Aeotec.
Can I migrate from SmartThings v1, v2 or v3 to Smart Home Hub?

Migrating from SmartThings hub v1 requires factory resetting all of your devices and connect/pair them again to your Aeotec Smart Home Hub. If you're migrating from v2 or v3, you can email support@smartthings.com to get assistance in automated migration. A step-by-step guide to

migrating from older SmartThings hubs

is also available.
SmartThings Station vs Aeotec Hub: how do they compare?

With a focus on the Matter automation standard, and without Z-Wave built in, Samsung's SmartThings Station (sometimes called Hub v4) falls short of the average home's automation system needs. In comparison to Aeotec Smart Home Hub / SmartThings Hub v3, SmartThings Station is compatible with 37% fewer locally processed devices. It also isn't able to offer local processing in homes running multiple Matter hubs or bridges. A full comparison of

SmartThings Station vs Aeotec Smart Home Hub

is available at that link.
Is SmartThings a Samsung app?

Yes, it is developed and published by Samsung Electronics and it is free to download. SmartThings' app is available for both iOS and Android devices.
Is SmartThings compatible with Alexa or Google Home?

Yes, Amazon Alexa and Google Assistant can be used to control SmartThings and Aeotec Smart Home Hub. Once you've connected the systems to each other, you'll be be able to use voice commands to control devices connected to SmartThings. Do note that there are some limitations; for instance, for security reasons, Amazon Alexa will only support Routines with lighting, switch, and thermostat devices.
Is Aeotec Smart Home Hub the best Z-Wave gateway?

That really depends on your needs - it certainly features in our top list of best gateways. If you'd like to make sure that you purchase

the best Z-Wave hub

, follow that link to our guide.
Does Aeotec work with SmartThings?

Yes, over 40 products from Aeotec are fully integrated into the SmartThings platform. This includes compatibility with SmartThings Hub v3 and Aeotec Smart Home Hub. A full list of

products compatible with SmartThings

, including Aeotec, is available.
Can I upgrade from SmartThings v2 to Aeotec Smart Home Hub?

Yes, you can upgrade - but it is not easy. Aeotec provides no seamless or easy upgrade between hubs. If you wish to upgrade to a newer hub you will have to disconnect your Z-Wave and Zigbee devics from your old hub first. You will then have to connect / pair them with the new hub. If you're purchasing a new hub, you may wish to check our guide to the

best hubs currently available

.
Does Aeotec Smart Home Hub support Z-Wave Long Range?

As it uses 500 series Z-Wave, Aeotec Smart Home Hub cannot support and is not compatible with Z-Wave Long Range. If you wish to use Long Range Z-Wave technology, we recommend using

Atrim Stick

with Home Assistant instead.