Technology
Z-Wave Plus
500 series
Take charge of your home's appliances with the miniature power outlet controller that offers immense power.
Description

Installed directly behind your wall sockets, it offers all the power of intelligent automation and remote control, along with power consumption management. Discrete and smart, Nano Switch works invisibly behind your existing switches without the need to replace them.

Turn an existing in-wall appliance switch into a remote controlled switch by adding the Aeon Labs Aeotec Z-Wave Nano Switch with Power Metering, Gen5. This newly improved mini controller is 60% smaller than the Micro Switch, but comes with Aeotec Gen 5 and power metering technology. The Z-Wave Nano Switch is designed to fit behind your wall switch, completely hidden from view. Just grab a Z-Wave controller, point, and click for remote control of your switched appliance!

Adds Z-Wave wireless control to an existing switch
Fits behind most in-wall appliance switches
Built-in meter monitors energy consumption
Wireless range up to 492 feet from controller

As part of Aeon Labs' Generation 5 series, the Nano Switch brings improved connectivity and performance. Gen 5 technology is the cutting edge of Z-Wave technology, featuring the widest Z-Wave compatibility possible as well as enhanced security, battery life, and signal strength.

Built-In Energy Meter

In addition to Z-Wave technology, the Z-Wave Nano Switch also features an integrated energy meter to help you manage your energy consumption and reduce costs. Energy consumption will be displayed in the user interface of the gateway/controller (if supported). For even more energy savings, put the switch on a timer using a compatible Z-Wave timer or software (sold separately).

Simple, Universal Installation

The switch uses your existing wires, whether the wiring is simple or complex. Use the switch in single-pole, leading or trailing edge, and 2 and 3-wire installations.
Shipping & Returns

Free US continental shipping for orders over $150; $5 for orders $99 or less. In most cases, any order received prior to 12:00 EST ships the same business day. Orders placed on a weekend or holiday will ship on the next business day. Shipping charges calculated at checkout.

No drop shipping - all stock warehoused in the USA so you won't be charged any import duties for shipments within the USA.
Share
View full details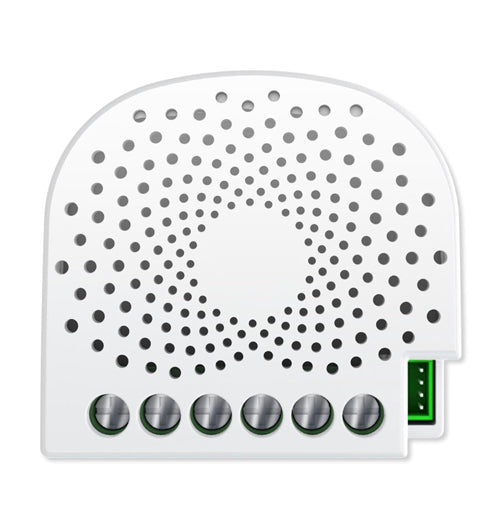 Shopping with ZWaveProducts
Free, Fast Shipping

Free shipping in the USA for orders over $150. Or $5 for orders $99 and under.

1 Year Warranty

All new items, including open box, covered by 1 year warranty.

Hassle-Free Returns

Returns within policy accepted up to 30 days after purchase.