The Aeotec Nano Dimmer by Aeon Labs can take your home lighting to a whole new level. It offers faster, more responsive and smoother dimming capabilities so you can always find the perfect lighting.
Description

Small in size. Big in potential. Each Nano Dimmer has been crafted to work with your home's existing technology. Using the power of Z-Wave wireless communication, the Nano Dimmer will make your existing switch a smart switch. The Nano Dimmer can automate your appliances and group them together to create scenes that respond to schedules or triggered events. The dimmer can also monitor your electricity consumption and can be controlled from anywhere in the world via smartphone.

Dimming. The Nano dimmer can dim and brighten compatible bulbs including LED, CFL, halogen, fluorescent and incandescent bulbs.

Indoors and Outdoors. The ambiance of your outdoor space can be just as integral of that of your indoor spaces. And with the Nano Dimmer you can control, automate and perfect them both for finesse and safety.

Scene control. Rooms generally don't have just one light. That's why the Nano Dimmer can be part of a scene, allowing you to group lights together so they work in sync and talk to each other effortlessly.

Gen5 technology. As part of Aeon Labs' Generation 5 series, the Nano Dimmer brings improved connectivity and performance. Gen 5 technology is the cutting edge of Z-Wave technology, featuring the widest Z-Wave compatibility possible as well as enhanced security, battery life, and signal strength.

3 way wiring compatible. Wiring isn't always straightforward and while the Nano Dimmer will work with simple wiring or complex, 2 or 3-wire installations.

Use your existing switches. Just because you want enhance your switches, doesn't mean you want to change your physically change them. The Nano Dimmer utilizes your existing wires, and can be easily installed behind your light switch with little more than a screwdriver, allowing for invisible installation that suits your decor perfectly.

Schedule. Some days of your life run to a schedule, and each Nano Dimmer can be a part of it. Turn on lights as you wake up in the morning or when you come home from work. The dimmer also allows you to create home-away-from-home schedules that imply to the watching, outside world that your home is occupied even when it's not.

Fantastic wireless range. They're small in size but not in their wireless range. Each Nano Dimmer can talk to other Z-Wave devices within its network up to 492 feet outdoors, ensuring strong, reliable, wireless communication.

Z-Wave inside. To make any switch a wireless switch, you need a reliable wireless technology. Each Nano Dimmer has Z-Wave built right in, giving them all the benefits of the leading home control technology from secure communications to low-power usage to network-wide compatibility.

Mesh communication. Along with all its other benefits, each Nano Dimmer is enhanced with Z-Wave mesh technology. Wireless signals get lost. Z-Wave signals don't. Each smart dimmer acts as part of a mesh network, receiving, amplifying and repeating signals intended for other Z-Wave devices.

The Aeotec Nano Dimmer Aeon Labs is 60% smaller than the original Nano Switch and offers even more capabilities. Unlike the Nano Switch, this dimmer can fit right behind your wall switch so you can hide it from plain sight. Therefore, this dimmer not only improves your lighting, but can improve your home's appearance as well.
Shipping & Returns

Free US continental shipping for orders over $150; $5 for orders $99 or less. In most cases, any order received prior to 12:00 EST ships the same business day. Orders placed on a weekend or holiday will ship on the next business day. Shipping charges calculated at checkout.

No drop shipping - all stock warehoused in the USA so you won't be charged any import duties for shipments within the USA.
Share
View full details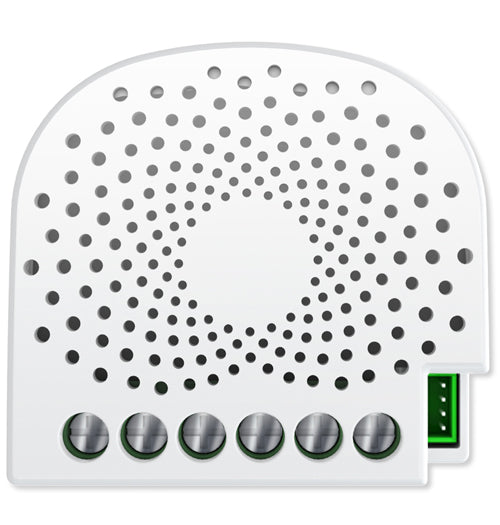 Shopping with ZWaveProducts
Free, Fast Shipping

Free shipping in the USA for orders over $150. Or $5 for orders $99 and under.

1 Year Warranty

All new items, including open box, covered by 1 year warranty.

Hassle-Free Returns

Returns within policy accepted up to 30 days after purchase.