Smart Switch & Dimmer - 2 in 1
The highest quality and most advanced ZWave smart wall switch available, Inovelli's Blue Series Smart 2-in-1 Switch can be set up as a on/off switch or dimmer switch.  With the ZWave 800 series chip it's one switch with a huge array of capabilities and features that go far beyond being a switch and a dimmer.
2 in 1?  More like 100 in 1
uL certified, this ZWave 800 Series smart switch functions either as a dimmer or a on / off toggle switch. That's part of Inovelli Red Series' multiple methods of installation:
Install with Neutral:

 T

he most common installation in homes, simply install the switch as you would a basic light switch with the addition of a neutral wire.
Install without Neutral:

 No neutral wire in your home? That's common for 

older homes. But even holder homes can get an upgrade with 

Inovelli's Blue Series - you can install it without a neutral wire. There are some limitations, however, so check out the details under 'Installation' below.



3 way, more way: Install Blue Series with an auxiliary switch, and you can use it to intelligently control and automation lighting controlled by more than 1 switch. You'll then have automation, switching, and dimming available at all switches.

Basic switches can stay:

 

If you prefer to keep existing, basic switches, in a 3-way or multi-way setup, that's also possible.

We're fine with more:

 Y

ou can install 2 or more Blue Series switches in a 3-way or multi-way setup. 
Of course, Inovelli Red Series' features are so advanced that they don't end with its installation.
Mutli-Tap Scene Control: With 21 different scene options, you can really put your imagination to the test on what you can do in your smart home. Imagine double-tapping your switch at bedtime and all your smart lights turn off, doors lock, thermostat turns to 68 and notifies you if any of your doors are unlocked. Or press the favorites button in your entertainment room to quickly turn off the main lights and turn on your movie lights.

Button control is as follows:

Tap 1-5x on the top of the paddle (5 different scenes)
Hold down on the top of the paddle / release (2 different scenes)
Tap 1-5x on the bottom of the paddle (5 different scenes)
Hold down on the bottom of the paddle / release (2 different scenes)
Tap 1-5x on the favorites button (5 different scenes)
Hold down on the favorites button / release (2 different scenes)

 

Features are contingent on your hub supporting it. Inovelli has tested these on Hubitat, Home Assistant and SmartThings. 
Beyond capable LED:

 Fully customise the switch's LED bar using automations. Maybe they'll glow red during an emergency or if you've left the garage door open? Maybe they'll show a sport team's colors? Or maybe they'll just be a soft white glow.

ZWave Long Range: Per Silicon Labs, the 800 Series can achieve range up to 1.5 miles, has built in S2 Security (with Secure Vault) and faster processing speed via an ARM Cortex-M33 microprocessor at 78 MHz. Pair this Red Series with an 800 Series controller like the Atrim Stick, and unlock the power of ZWave LR.
Smart Bulb Mode: Wire your smart bulbs directly to your smart switch. No more putting tape over light switches or yelling at the babysitter for flipping switches. "Smart Bulb Mode" allows power to remain at the smart bulb and the switch sends a digital signal to the hub to turn on/off and/or dim the light bulb. Use in combination with Scene Control to change colors!
Specifications

Z-Wave Plus v2, 800 series
Z-Wave Long Range compatible
Power: 120V AC, 60Hz
Operating temperature: 32-95° F (0-35° C)
Maximum Load (Watts): 600W Incandescent, 300W LED, 150W CFL
Mesh range: Up to 100 meters line of sight between the Wireless Controller (HUB) and the closest Z-Wave Module when included without Long Range.
Long Range range: Still under testing. The Z-Wave specification for 800 series indicates that Long Range mode could provide greater-than 1 mile coverage.
Dimensions: Depth = 1.2" (3.0cm), Height = 2.8" (7.1cm), Width = 1.6" (4.1cm)
Compatibility

Designed to work with 120V 600W incandescent bulbs, 300W loads of LED bulbs, 150W loads of CFL bulbs.

Certified compatible with SmartThings, Home Assistant with a Z-Stick, and Hubitat.
Shipping & Returns

Free US continental shipping for orders over $150; $5 for orders $99 or less. In most cases, any order received prior to 12:00 EST ships the same business day. Orders placed on a weekend or holiday will ship on the next business day. Shipping charges calculated at checkout.

No drop shipping - all stock warehoused in the USA so you won't be charged any import duties for shipments within the USA.
Share
View full details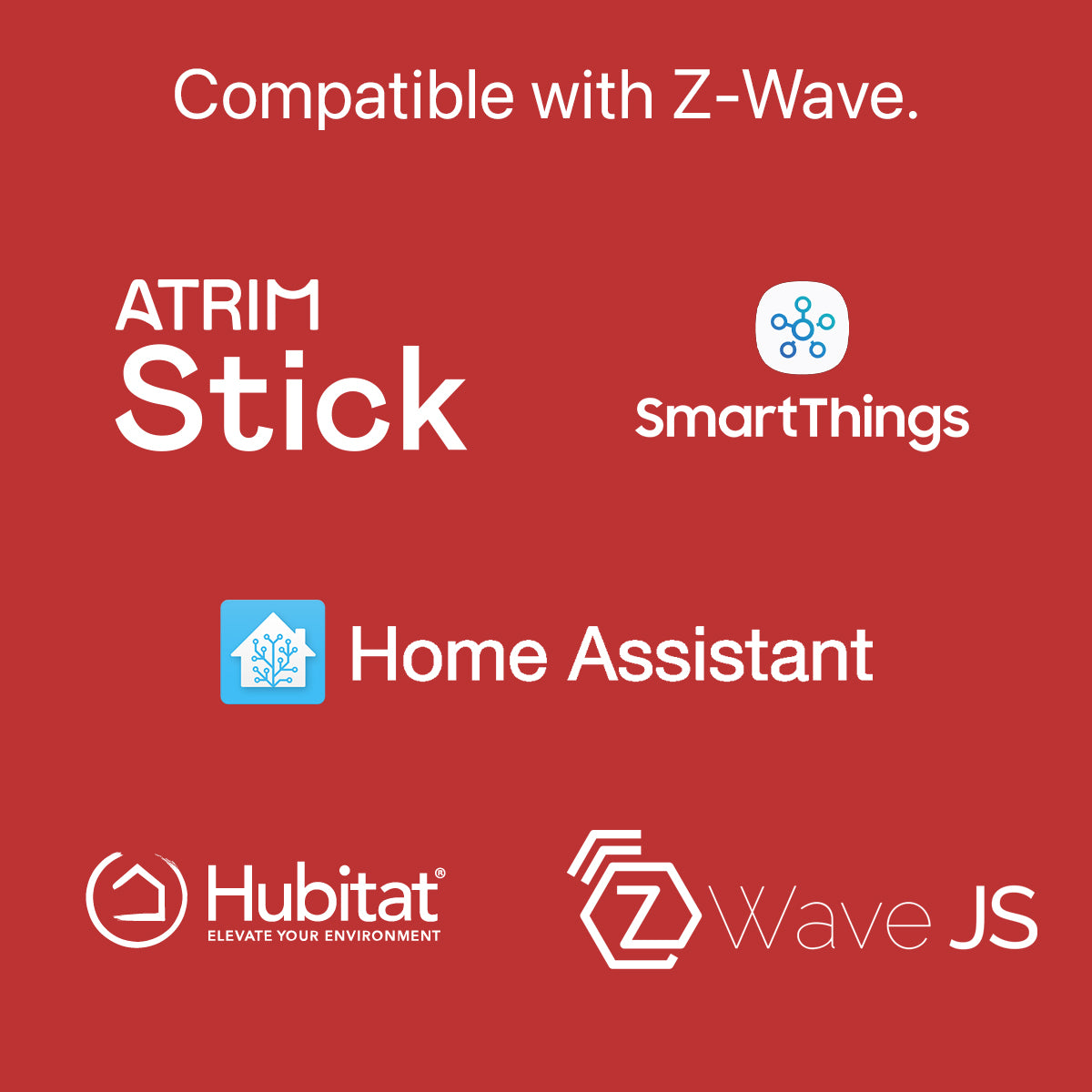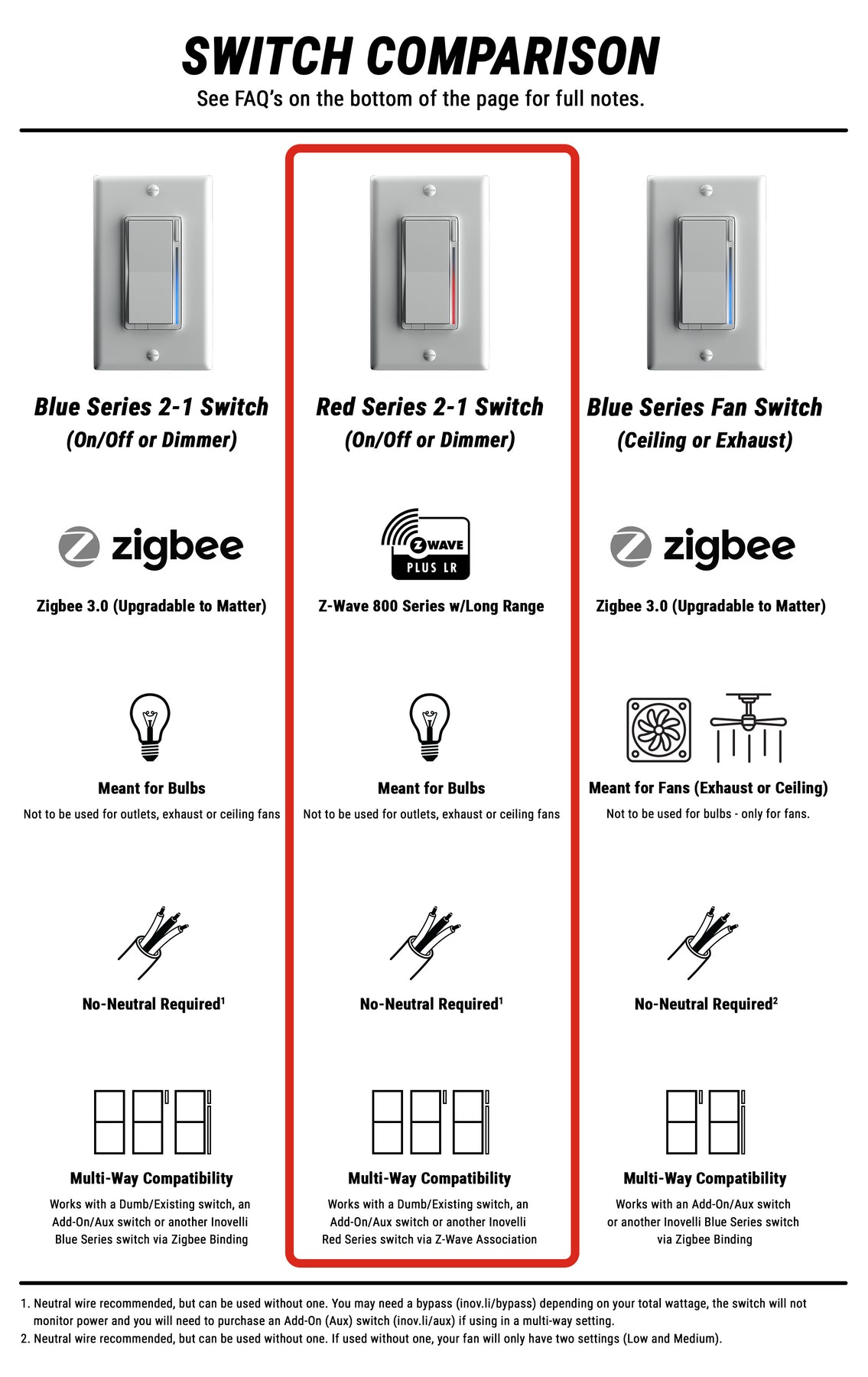 Shopping with ZWaveProducts
Free, Fast Shipping

Free shipping in the USA for orders over $150. Or $5 for orders $99 and under.

1 Year Warranty

All new items, including open box, covered by 1 year warranty.

Hassle-Free Returns

Returns within policy accepted up to 30 days after purchase.