Version 2 of Aeotec's tiny 4-in-1, temperature and humidity sensor, the aërQ Temperature & Humidity Sensor is a multi-sensor designed to help manage your home's air quality, heating, and cooling. It features:
wireless and battery powered
Z-Wave Plus V2; use sensor measurements to trigger automations such as thermostats, heaters, air conditioners, humidifiers, and de-humidifiers
small size of 1.38 inches allows it be installed anywhere

temperature sensor in °F or °C; measures between 14°F and 149°F / -10°C and 65°C 

humidity sensor; measures between 0% and 80% RH

dew point sensor
mold potential algorithm detects when temperature and humidity allow health-harming mold spores to grow allowing you to automate air purifying remedies

Specifications

Humidity range: 0 to 80% RH ± 3%
Temperature range: 14°F to 146°F (± 1.8°F) / -10°C to 65°C (± 1°C)
Dew point range: 14 to 146°F (± 1.8°F) / -10 to 65°C (± 1°C)
Operating humidity: 10 to 95%
Operating temperature: 0°C to 45°C / 32°F to 113°F
Battery: CR2477 3V Lithium (LiMnO2)
Super-small at 1.38 inches. It can be installed almost anywhere you need to measure temperature and humidity and analyze some attributes of air health.
Installation & Manuals

Quick start. Getting your aërQ Sensor up and running is as simple as installing it and linking it to your Z-Wave network. The following instructions tell you how to add your aërQ Sensor to your Z-Wave network using an existing gateway.

How to open aërQ Sensor.
There are 2 small, indented arrows on the side of your aërQ Sensor that indicate where you need to push in in order to open up aerQ Sensor.

Find the 2 indented arrows along the side of your aerQ Sensor.
Place your thumb and index finger on the 2 indented arrows and push in.

If attached to a wall - pull the aerQ sensor which will separate it from the bottom half.
If not attached to a wall - use your other hand to grip the bottom half of the sensor and pull the 2 sides apart, the 2 halves will split apart.

Remove the battery tab.
aërQ Sensor has a battery tab in this unit to keep the unit from utilizing the battery when it is first purchased. Make sure that you remove this tab before you continue with the installation.

Open up the aërQ Sensor to expose the battery.
Locate the indented arrows and grip the top and bottom half and pull them apart.
Remove the battery and the battery block tab from the unit.
Recycle or trash the battery block tab.
Replace the battery back into its hardware with + side facing outwards.

Installation of aërQ Sensor.
aërQ Sensor utilizes double-sided adhesive tape to allow you to mount aërQ Sensor onto any flat surface.

Place the double-sided adhesive on the bottom of aërQ Sensor
Choose a place to stick aërQ Sensor and firmly press down to finish the mounting installation.
Remove aërQ Sensor from its mount to prepare aërQ Sensor for pairing.
Compatibility

Compatible with certified Z-Wave gateways including Aeotec SmartThings Hub and Z-Stick 7, Atrim Stick and Home Assistant, Fibaro Home Centre, and Vera UI7.

A list of which gateways Aeotec products are compatible with is available at that link.
Shipping & Returns

Free US continental shipping for orders over $150; $5 for orders $99 or less. In most cases, any order received prior to 12:00 EST ships the same business day. Orders placed on a weekend or holiday will ship on the next business day. Shipping charges calculated at checkout.

No drop shipping - all stock warehoused in the USA so you won't be charged any import duties for shipments within the USA.
Share
View full details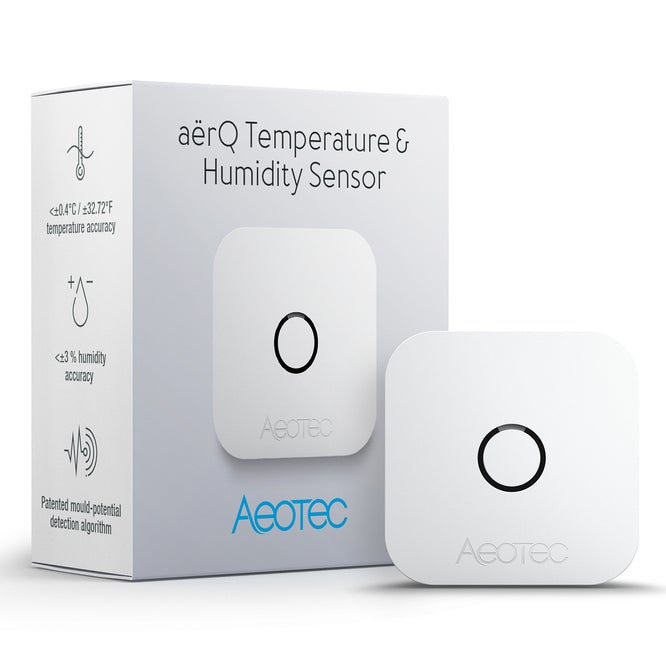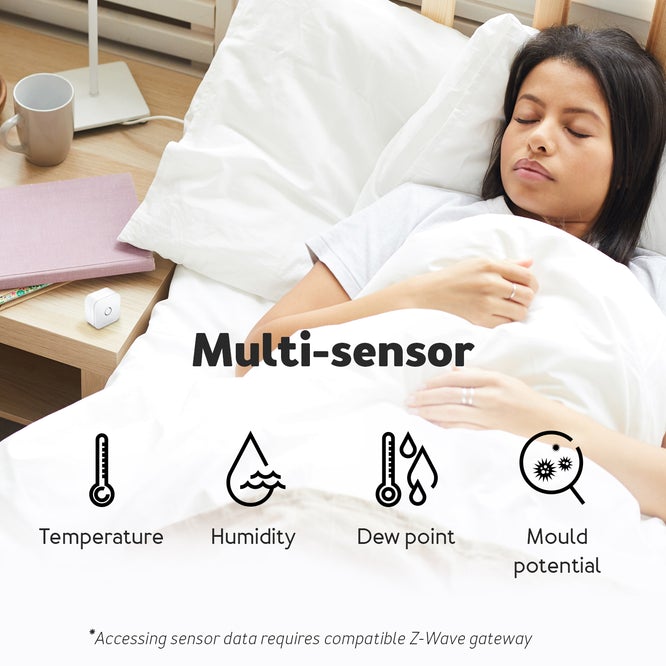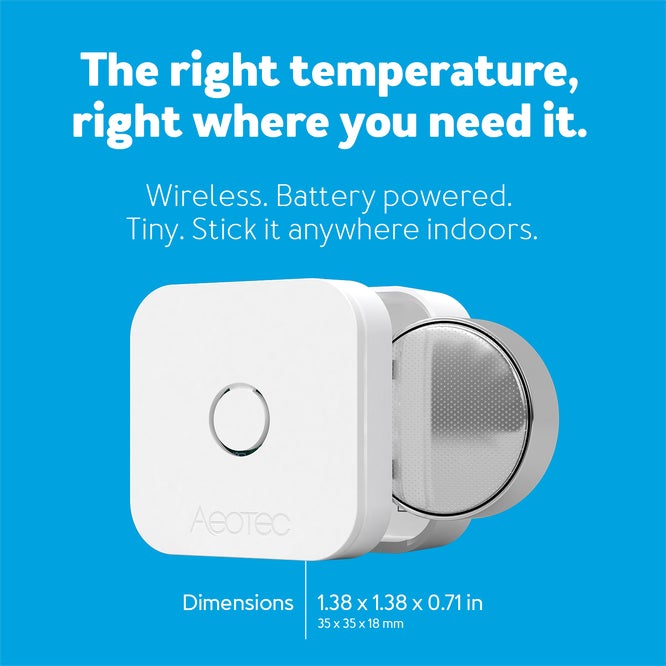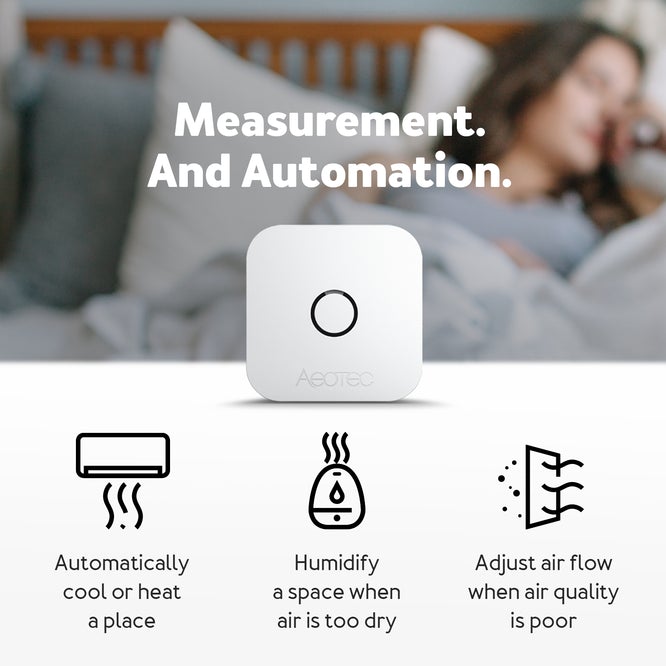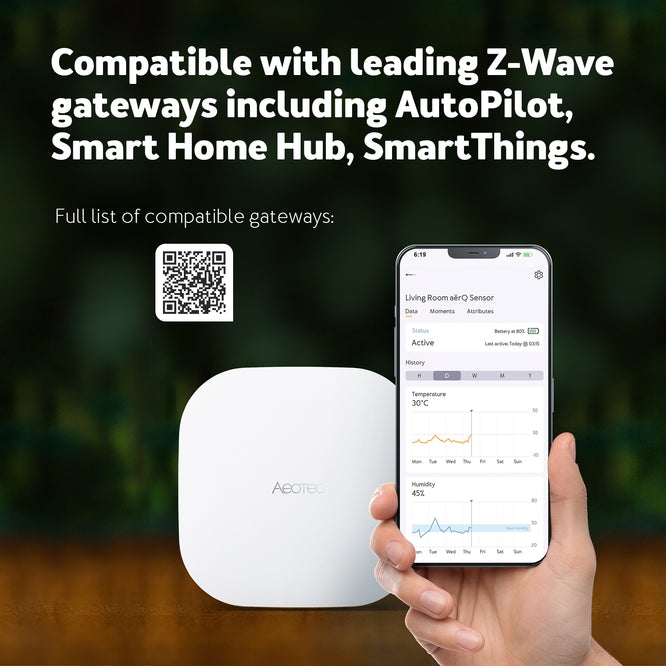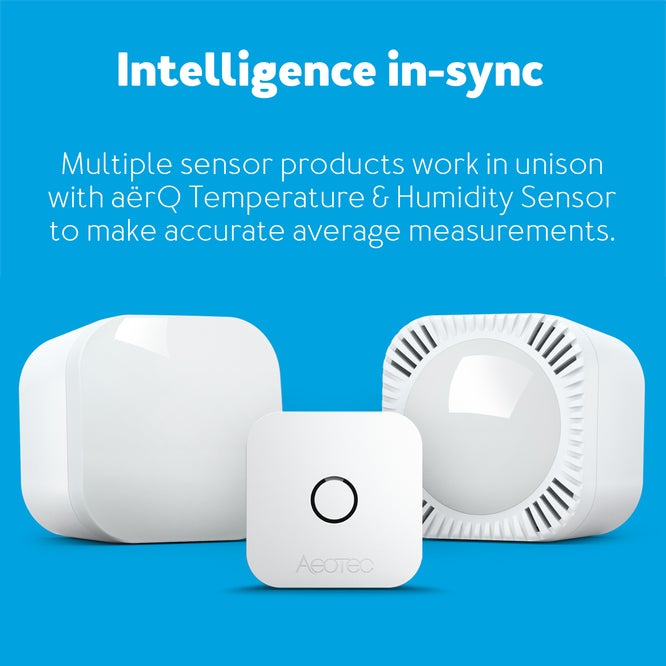 Shopping with ZWaveProducts
Free, Fast Shipping

Free shipping in the USA for orders over $150. Or $5 for orders $99 and under.

1 Year Warranty

All new items, including open box, covered by 1 year warranty.

Hassle-Free Returns

Returns within policy accepted up to 30 days after purchase.
Customers also researched