KeyFob is a small ergonomic, hand-controlled device that allows you to remotely manage devices connected to a central controller in the Z-Wave network. Devices can be controlled either through scenes, or directly connected to other devices.
With the Fibaro Keyfob Remote equipped you can manage, control, and activate scenes, as well as individual devices. The Keyfob remote features six-touch activated buttons. With these six different buttons, you can accomplish up to thirty different Keyfob actions through a series of single, double, or triple clicks. With a single click, you can activate specific scenes, turn on the lights, enable your alarm, or even lock your doors. When you set up your remote, you can enable a personalized pin to best protect your hardware from unauthorized users. The Fibaro Keyfob Remote paired with Z-Wave Scene Controller offers a functional battery life of up to two years to guarantee long-term efficiency.
Description

Controlling KeyFob is very easy, and possible via 6 easy to press buttons that communicate with other connected devices within the ecosystem. Set predefined scenes like, "Good morning", "Good night", and "Relaxation time", and come home to a relaxing environment while soothing music starts to play and lights turn down to a comfortable even setting.

KeyFob comes as a key chain in an organic and simple white color.

Operates in the standard Z-Wave/Z-Wave Plus mesh network.
Features a PIN code for maximum security.
Battery-powered (battery can last up to 2 years with about 5 key presses per day).
Ergonomic 2.75 X 1.5 inch plastic casing features a flattened ellipsoid shape.
Controls devices that enable, disable, lighten/darken lighting and other mechanical devices.
Key lock function.
Emergency restoration option with the ability to set device back to factory default settings.
LED indicator to confirm executed actions
Compact design fits right in your hand or pocket
Shipping & Returns

Free US continental shipping for orders over $150; $5 for orders $99 or less. In most cases, any order received prior to 12:00 EST ships the same business day. Orders placed on a weekend or holiday will ship on the next business day. Shipping charges calculated at checkout.

No drop shipping - all stock warehoused in the USA so you won't be charged any import duties for shipments within the USA.
Share
View full details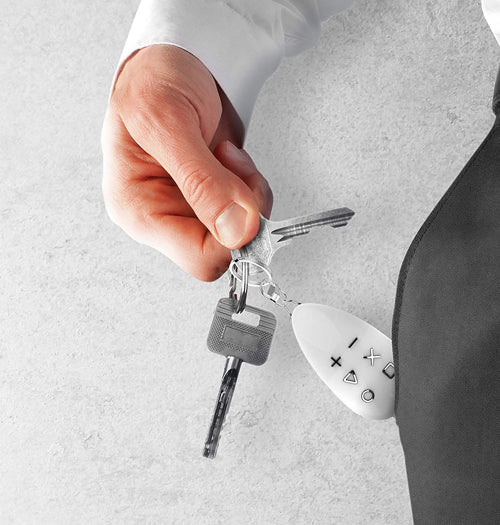 Shopping with ZWaveProducts
Free, Fast Shipping

Free shipping in the USA for orders over $150. Or $5 for orders $99 and under.

1 Year Warranty

All new items, including open box, covered by 1 year warranty.

Hassle-Free Returns

Returns within policy accepted up to 30 days after purchase.