The Honeywell T6 Pro Z-Wave Programmable Thermostat is a Z-Wave Plus certified thermostat capable of controlling up to three heat and two cool stages of heat pump, (including dual fuel heat pump systems) and up to two heat and two cool stages of conventional system (3H/2C HP, 2H/2C Conv.) It also measures, displays and reports % indoor relative humidity; however, this model does not control humidification equipment.
Offers control of heating and cooling
Fan functions are On, Auto, and Circulating
Time based 7-day, 5-1-1 or 5-2 day programmable, non-programmable, or occupancy controlled with Z-wave panel/app integration
Up to 3H/2C Heat Pump systems or up to 2H/2C Conventional systems
Features RH, RC, C, Y2, Y1, G2, G1, B, O, W2, and W1 wires
C wire optional; can be battery powered
Keypad lockout
DST Enabled
Power 2 ways: mains power via 24 volts or via batteries

Description

Features the following Program Modes:
7-Day Programmable, 5-1-1 Programmable, 5-2 Programmable, 1 Week, Manual / Not Programmed, Occupancy Through App, 5-1-1 Programmable, 5-2 Programmable, 7-Day Programmable, 1 Week, Manual / Not Programmed, Occupancy Through App

Features the following Stages:
Up to 3 Heat/2 Cool Heat Pump Systems, Up to 3 Heat/2 Cool Dual Fuel Systems, Up to 2 Heat/2 Cool Conventional Systems

Features the following alerts and reminders:
Battery Replacement, Dehumidifier Filter, Filter Change 1, Filter Change 2, Heat Pump Error, Humidifier Pad, Memory Error, Sensor Error, UV Bulb 1, UV Bulb 2, Vent Filter
Specifications

Application:
Multi-Stage (Heat/Cool)
Heat Pump
Changeover: Manual
Auto
Display:
Digital
Stages:
2 Heat/2 Cool
3 Heat/2 Cool Heat Pump
Mount:
Square
User Interface:
Touchscreen
Programmability:
7 Day
5-2 Day
5-1-1 Day
Programmable
Power Method:
Hardwired
Battery
Operating Temp Range:
37°F to 102°F
3ºC to 39ºC

Color:
White
Humidity Range:
5 to 90% RH (non-condensing)
Wireless:
No
Voltage:
24v
Shipping & Returns

Free US continental shipping for orders over $150; $5 for orders $99 or less. In most cases, any order received prior to 12:00 EST ships the same business day. Orders placed on a weekend or holiday will ship on the next business day. Shipping charges calculated at checkout.

No drop shipping - all stock warehoused in the USA so you won't be charged any import duties for shipments within the USA.
Share
View full details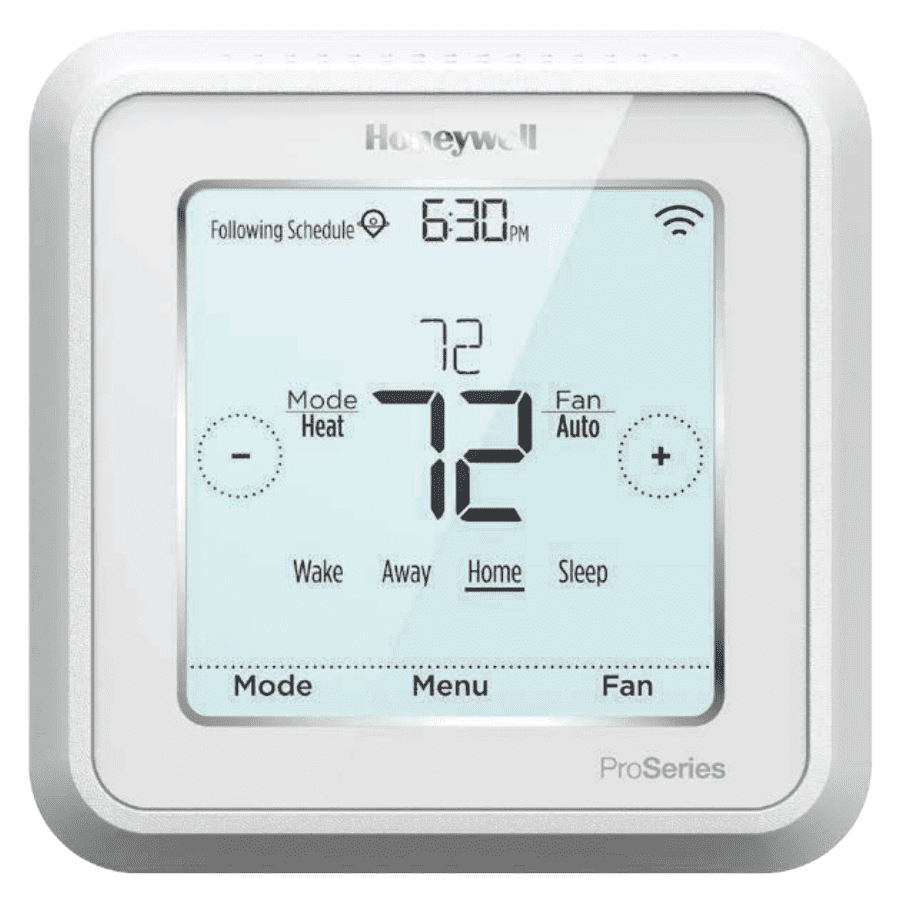 Shopping with ZWaveProducts
Free, Fast Shipping

Free shipping in the USA for orders over $150. Or $5 for orders $99 and under.

1 Year Warranty

All new items, including open box, covered by 1 year warranty.

Hassle-Free Returns

Returns within policy accepted up to 30 days after purchase.
Frequently asked questions
How can I set up a password on the Honeywell T6 Pro to prevent anyone from changing the temperature?

To set up a password, follow these steps:

Press the Menu button on the thermostat.
Scroll to the Screen Lock setting.
Press the Select button and choose Full Lock.
Select a 4-digit pin and confirm it.
The panel is now locked. Make sure to remember the code.
What is the lowest temperature setting for the Honeywell T6 Pro thermostat?

The lowest temperature setting is 40 degrees Fahrenheit.
Is a C-wire required for the installation of the Honeywell T6 Pro thermostat?

A C wire is not required and fully optional. You have the option to connect a C wire or you can use batteries instead.
Can I set a minimum and maximum temperature to prevent people from damaging my AC units?

Yes, you can set a minimum and maximum temperature limit within the Honeywell T6 Pro in order to protect your AC units.
If connected to a Z-Wave hub, can I control the Honeywell T6 Pro both directly and through a Z-Wave app?

Yes, you can control the thermostat directly using the device interface, through your Z-Wave hub app, or both.
Is the Honeywell T6 Pro thermostat compatible with the variable speed blower on a furnace?

No, the thermostat offers options for Fan On/Off/Auto control, but it does not control variable speed blowers.
Is there an outdoor sensor that can report the outdoor temperature to the thermostat?

Yes, Honeywell offers sensors that can report both indoor and outdoor temperatures. These sensors need to be purchased separately. Alternatively, you can use temperature data from your Z-Wave hub or Z-Wave sensors connected to your hub.
Does the Honeywell T6 Pro thermostat's screen go off when inactive?

Yes, the thermostat's screen can be set to different brightness levels or no backlight when idle. When you touch the screen, the backlight will come on at full brightness. After one minute of inactivity, the screen will revert to the idle brightness level. Using a Z-Wave controller, you can adjust these settings throughout the day.